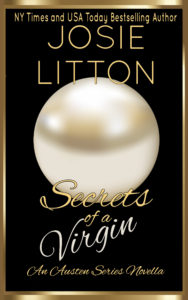 My 5-star erotic romance series has gotten a fabulous new look for the new year!  I love these gorgeous new covers and I hope you will, too.
To celebrate, I decided to write the very first Austen series novella, SECRETS OF A VIRGIN, and to make it FREE exclusively to newsletter subscribers for a limited time.
Penelope Padgett is a young woman on a mission--seduce billionaire Cole Dawson, the man she has yearned for since she was sixteen. Ten years her senior and a friend of her family's, Cole has resolutely refused to acknowledge that the winsome teenager with a crush on him has grown into a beautiful and very determined woman. Until, that is, Penelope contrives to bring herself to his attention in a way that shatters even Cole's iron control and propels them both into a confrontation with their deepest, darkest desires.
Click on the cover or here to get your FREE copy now from Bookfunnel. It's fast, easy and safe. 18+ only please.