Click on the cover  to download your own FREE full-color pdf copy of
Josie Litton's "Behind the Scenes".
57 full-color pages of the visual inspiration behind Josie's books
You can also view all of "Behind the Scenes" in the
***Please note: Some images are not safe for work. Adults only.***
.pdf requires Adobe Reader, available for download from Adobe here.
Three Bites of the Apple
Erotica Sampler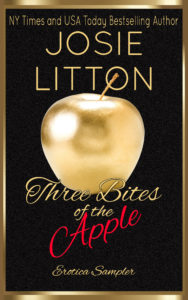 Then don't miss this "hotter-than-hot" FREE sampler of the books from my Austen series--contemporary stories set in an imagined version of the real world and very loosely inspired by my love of all-things Jane Austen. Reviewers have called these M/F, monogamous, HEA books "intensely hot", "not for the faint of heart", "shockingly sexy", "hotter than anything I've ever read" and much more. See for yourself, FREE!
Click on the cover image or here to download from Bookfunnel. It's quick, easy and safe!
Don't Miss a Giveaway
Join my Readers Group to receive news about current giveaways, new releases and more. I don't spam and your address will never be shared. Unsubscribing is quick and easy.