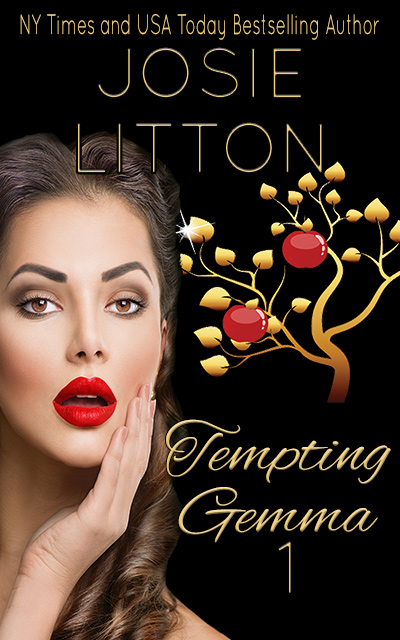 Coming this summer starting July 6
TEMPTING GEMMA
Josie Litton
erotic romance
TEMPTING GEMMA is purely--impurely might be more correct--a work of escapist entertainment. It is intended as a secret, even guilty pleasure to be indulged in privately, perhaps with a nice glass of wine or the beverage of your choice. Although M/F, monogamous and HEA, it in no way depicts events that I would ever wish to occur in the world as we know it.
Keep scrolling for the first sneak peek. Adults only, please!
X
X
X
X
X
X
X
X
X
X
Poor, lovely Gemma. She dreamed of going to university, then on to study law and a career as a women's rights attorney. Instead, she had barely turned eighteen and graduated from convent school before being sold into marriage to settle her father's debt to an old aristocratic family.
Her husband, The Most Honorable Charles George David Bonville, Marquess of Ardsley was young, handsome and astonishingly virile. He liked nothing better than dreaming up new and creative ways to tease and torment poor, lovely Gemma.
On their wedding day, Gemma was looking forward with innocent excitement to the moment when her husband would kneel before her to remove her garter. Instead, in an excess of enthusiasm, Charles bent her over the head table. To the cheers of his groomsmen, her bridesmaids and the hundreds of guests, he pulled up her lovely wedding gown, tore off her white lace panties and plunged into her embarrassingly wet cunny, taking her virginity there and then.
As Charles was hung like the proverbial bull, this was quite a shock for poor, lovely Gemma. Everything afterward became a bit fuzzy, although she did remember her sister catching the bridal bouquet.
Matters did not improve on their honeymoon. Charles had chosen a private tropical paradise with every amenity a romantic couple could want. But instead of indulging her with spa treatments and the like, he insisted on taking Gemma out into the wilderness beyond the resort. There he amused himself flogging every inch of her skin with palm fronds until she had an all-over rosy glow, staking her out at the water line so that the incoming tide lapped maddeningly at her swollen pussy, and fucking her in all sorts of shocking ways.
In between, he enjoyed watching her run up and down the beach at his behest, her lovely breasts and bottom bouncing with every bound until she was quite breathless.
When they did mingle with the other guests at the resort, Charles insisted that Gemma wear a tiny string bikini that barely covered her naughty bits. Privately, this made her very self-conscious. However, thanks to the excellent education she had received at the Mary Magdalene School for Young Females, the mere idea of questioning her husband on the matter--or any other--caused Gemma such discomfort that she could not conceive of actually doing it. (Details of the unique curriculum, code of conduct, training and disciplinary policies of the Mary Magdalene School for Young Females can be found here in Appendix A).
Charles did take full advantage of the resort's clothing optional policy for himself. As he was extremely fit and significantly larger--in every sense--than the other men, he drew considerable attention from the females present. However, Gemma continued to be the recipient of his exclusive and highly vigorous attentions night and day in every possible way.
In particular, he delighted in tormenting his innocent young wife, arousing her right to the point of orgasm without allowing her to come. Of course, such restraint did not apply to himself. He was torn deciding which he liked better, watching her struggle to swallow his copious ejaculations or seeing his cum dripping out of her ass or cunt.
Self-gratification being strictly forbidden at Mary Magdalene, Gemma had no idea why marital life left her so embarrassingly engorged and constantly wet. She simply resolved to endure. Finally, while engaging in sexual congress on their patio before an appreciative audience of passing guests, Charles relented and let his little wife come.
The sensation of her ass being slammed up and down on his massive cock while he was vigorously slapping her clit only made Gemma's first orgasm all the more intense. Her screams were so loud that she entirely missed the enthusiastic applause of their audience who particularly appreciated her vigorous leg flailing and arm flinging.
Once Gemma had started coming, she couldn't seem to stop. Wherever, whenever and however Charles availed himself of his husbandly rights, the results were always the same. Tied spread-eagle between palm trees, on the dance floor swaying to the beat of steel drums, bobbing up and down on a sailboat, snorkeling, even, to her shame, while touring an historic church, Gemma found herself with a throbbing clit, a drenched cunt, a throat hoarse from her ecstatic screams and a smugly pleased husband.
Pre-Order Part One now at the pre-pub price of $0.99!